Apprenticeship Positions – Classes 10 / EF /13
Categories

News

Date

05/12/2018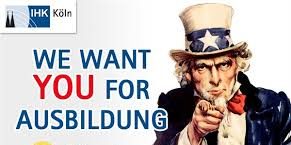 Apprenticeship Positions – Classes 10 / EF /13
There will be an exciting event for all pupils who are looking for an in-company training place in 2019 after leaving school (both high school graduates and school drop-outs, e.g. after Q1):
Between the issue of certificates and carnival, a AZUBI-SPEED-DATING with many well-known Cologne companies will take place.
When?                 20. February 2019, 8:00 till 17:00 hrs.
Where?                KOMED im MediaPark, Im MediaPark 6, 50670 Köln
Download LY2 Participant Info HERE
Preparation and participation are FREE!
To ensure that this speed dating is as successful as possible, we also offer a very intensive preparation day – which can also take place at our school. This preparation day, which will be carried out by a professional organization (TÜV Nord) and which the local employment agency will join as a contact and consultant, consists of potential analysis including evaluation, preparation of high-quality application documents and intensive coaching.
What do you have to do to participate??
All training seekers are individually coached by TÜV Nord. The application documents will be prepared, you will receive tips on appearance and styling and learn how to prepare well for the interviews. The information meetings for the preparation take place starting from 03 December 2018 to 08 February 2019. Within this framework, the dates (maximum 2) for individual coaching will be agreed upon. In the individual discussions, application documents are prepared, one receives tips for interviews and styling and experiences, how one prepares itself well for interviews.
Especially for students of our classes 10:
Companies in the following sectors are expected:
occupations in the office and secretariat as well as law and administration
occupations in trade (in the field of business and administration) and in transport, warehousing and logistics (in the field of transport/logistics)
occupations with plants
occupations in the hotel and restaurant industry, around the household and around cleanliness and hygiene
professions including cosmetics, body care and wellness
professions in power supply and installation
occupations with food
health and social work, Education
metal, mechanical engineering
professions with paints and varnishes
occupations with wood
electricity
construction, architecture, surveying
Interested pupils can also contact the Employment Agency directly at koeln.171-akademiker-beratung@arbeitsagentur.de to make an appointment for the information event.
Best regards from the Campus
Stefan Wiesmann +  Andrea Manstein
(StuBOs)
—
 Sarah Andree
Studien- und Berufsberaterin
Team Akademische Berufsberatung
Telefon:     0221 9429 1707
Telefax:     0221 9429 1701
E-Mail:      sarah.andree@arbeitsagentur.de
Internet:    www.arbeitsagentur.de
Besucheradresse
Agentur für Arbeit
Butzweilerhofallee 1
50829 Köln
* Postanschrift
Agentur für Arbeit
50575 Köln
Ihr Online-Kontakt zur Arbeitsagentur – bringt weiter!
Foto: IHK Köln