Dear students,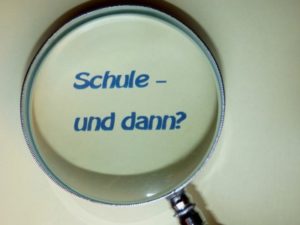 we would like to introduce you to the procedure of our consultation:
External vocational guidance by the employment agency / experts
Potential Analysis
Girls' and Boys' Day / Science Day
KAOA NRW Program "No degree without connection"
Online career choice
Individual counseling
Important:
Before you come to your guidance teachers, please do an online test and bring your last report card.
Consultation appointments: see notice board and if necessary Wednesdays in the lunch break. Prepare yourself well for the consultation!
Download Parent Information Potential Analysis Classes 8 here
Tips and tricks for your application
Maybe you have known since your childhood what you want to become. Maybe you had to look for something and inform yourself about different job profiles until you found the right job for you. Now comes the next step: the application. But what makes a good application? How do you design your cover letter and CV in order to stand out from the crowd with your application documents? What do you wear when you go to the photographer and have an application photo taken? What points do you have to pay attention to when you shoot an application video? And what clothes do you wear for an interview or an employment test? Questions about questions. You can find the answers here.
Upper School:
Interested Students Test (SIT) – How does SIT work?
The SIT evaluates your answers to 72 questions and uses them to create your own personal interest profile. You will receive a detailed evaluation of your study interest test (SIT) directly after you have answered the last question. Based on your personal interest profile, the Interested Students Test (SIT) also creates a list of all suitable undergraduate degree programmes.