JUNIOR Company in Business Education Classes 7-10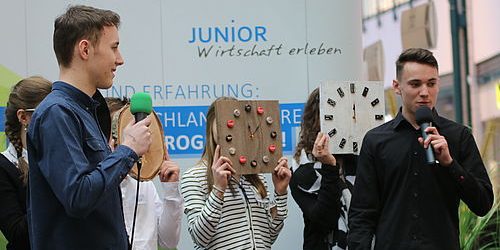 The nationwide JUNIOR programs offer our students the opportunity to start their own startup on our campus. The students learn and test together the basic principles of entrepreneurial activity and thereby acquire the social and professional core competencies they need for their future professional life. Long-term studies have shown that participation in the JUNIOR programs improves the future prospects of students.
In addition, the programs strengthen the school profile and enable teachers to bring the lesson to life. The JUNIOR programs provide a first-class bridge between the schools and the regional economy.
FOUNDATION PHASE
In the start-up phase, JUNIOR helps to find the right business idea. We pay attention to the complexity and legal background of each idea. Only when everything is right in terms of law and didactics, we give the green light.
Our offers:
Materials:
• JUNIOR game
• E-learning units
• Start-up package to start the business
Events:
• JUNIOR introductory workshop – workshop at the school to find the right business idea